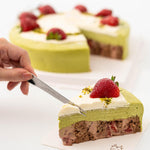 Sweet Lu is a boutique patisserie café located in the heart of Sydney's Chinatown.
Our mini masterpieces are lovingly handmade each morning, every batch from scratch! Allow us to introduce you to picture perfect cakes and seasonal traditional Chinese baked goods with a modern twist using only premium local ingredients carefully procured from trusted farmers.
We hope our desserts can brighten your mood and bring sweetness to your life.
Collaborations
We cater to boutique customized options for corporate events, seasonal client and staff gifts.
Specialising in legendary mooncakes and seasonal traditional Chinese treats. We would love to discuss how we can help bring extra sweetness for your brand.
Please contact us for custom corporate or events by sending us an email at hello@sweet-lu.com.au
Our clientele include